Are you looking for ChatGPT alternatives for essay writing in 2023? Writing essays can be an overwhelming task, and having a great essay writing tool can make it a lot easier.
ChatGPT is one of the most popular artificial intelligence chatbots, developed by OpenAI and launched in November 2022. It quickly gained attention for its detailed responses and articulate answers across many domains of knowledge and which can also be used for essay writing, but there are many other options that can make writing essays a lot easier.
In this blog post, we will be looking at 5 alternatives to ChatGPT that you can use for essay writing in 2023. These alternatives offer different features and benefits to find the right one for your needs. Read on to discover the best ChatGPT alternatives for essay writing in 2023.
Read Also – 17 Best AI Script Generator at Softlist.io
Top 5 ChatGPT Alternatives for Essay Writing in 2023
1. The Good AI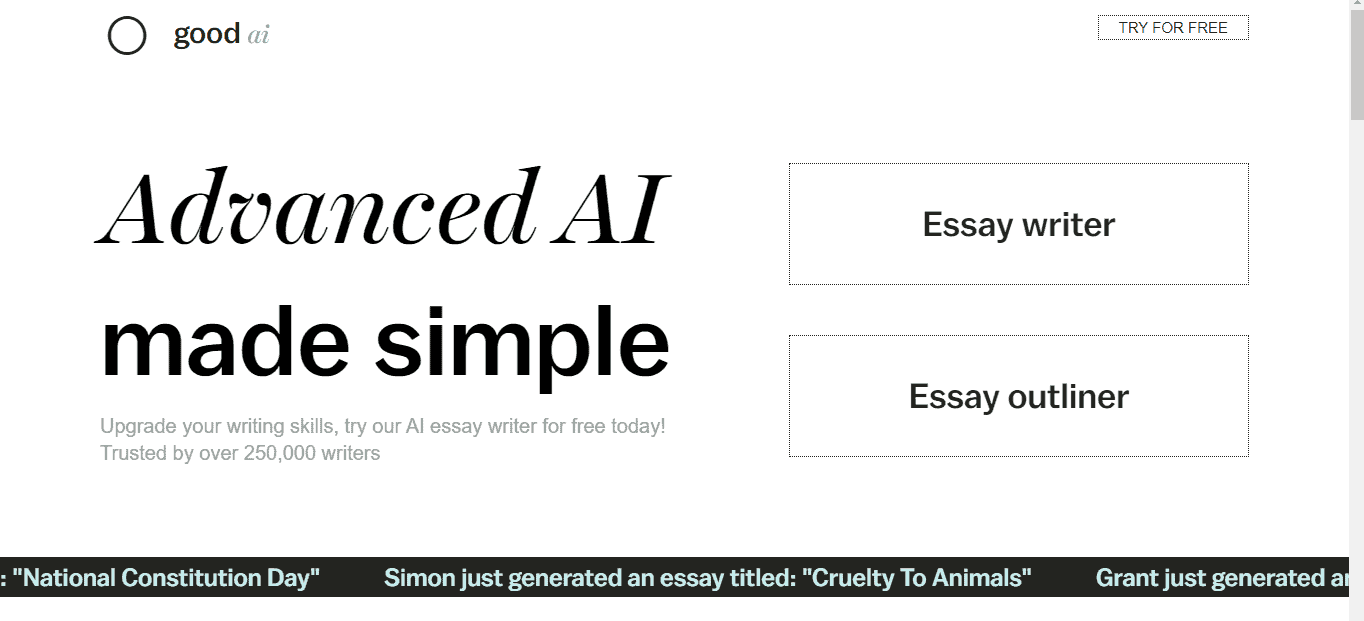 The Good AI is the first AI essay writing tool in our list that you can use as a ChatGPT alternative for writing your essays. It is a free, powerful tool that can help students, professional writers, bloggers, and researchers improve their writing skills by creating high-quality content.
The Good AI uses advanced AI technology to analyze text and identify areas that need improvement, such as grammar, style, structure, and more. With The Good AI, generating and outlining essays will be a breeze! To get started, you will select a topic, and The Good AI will generate relevant, accurate, and unique content for you – simple as that!
The user interface is simple and easy to use. All you need to do is choose a topic and how many words you want to generate using the word count slider. The advanced AI technology will then write relevant, unique, and accurate content on the topic given. You can also make additional changes to your essay using the AI auto-complete feature and export your essay as a PDF document.
Pricing
Free Plan: The free plan of The Good AI allows you to generate only 100 words of essay with no AI autocomplete feature. This can be helpful for students who only want to generate short-form essays.
Premium Plan: The Premium plan comes with $5/month, allowing you to generate essays of up to 1200 words with an AI autocomplete feature.
2. Paraphrasingtool.ai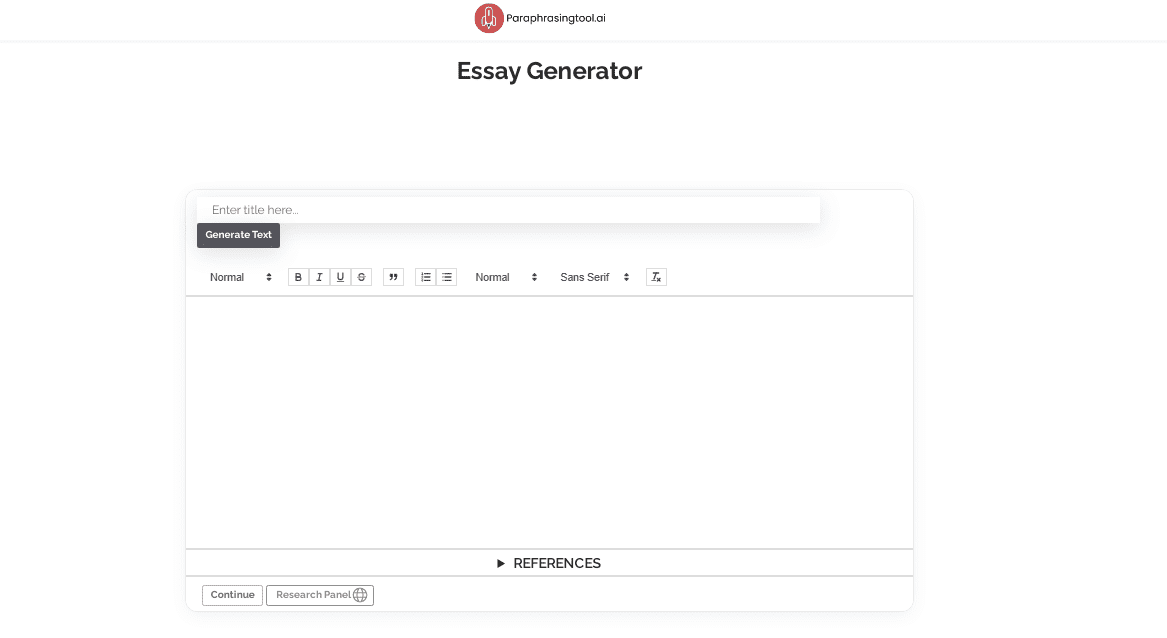 Paraphrasingtool.ai essay generator is the second essay writing tool using artificial intelligence, which you can use as an alternative to ChatGPT. This tool is designed to help students with their writing assignments or essays by automatically generating them from scratch. Its simple, easy-to-use interface lets you quickly generate the best and most creative essay in minutes with original and unique content. This can be a huge help for students struggling to get their essays done on time or who don't have the skills to write a good essay.
Generating essays using this AI essay writer is very simple and easy. You just need to have an essay topic in mind, and the program will start writing your essay from scratch. Enter the essay topic, click "Generate Text," and the program will do everything for you.
Paraphrasingtool.ai's AI Essay Generator is able to create original content quickly and easily by using advanced natural language processing techniques and state-of-the-art AI technology. This tool can be very helpful for those who want to create essays without any grammar or spelling errors.
Pricing
FREE
3. TinyWoW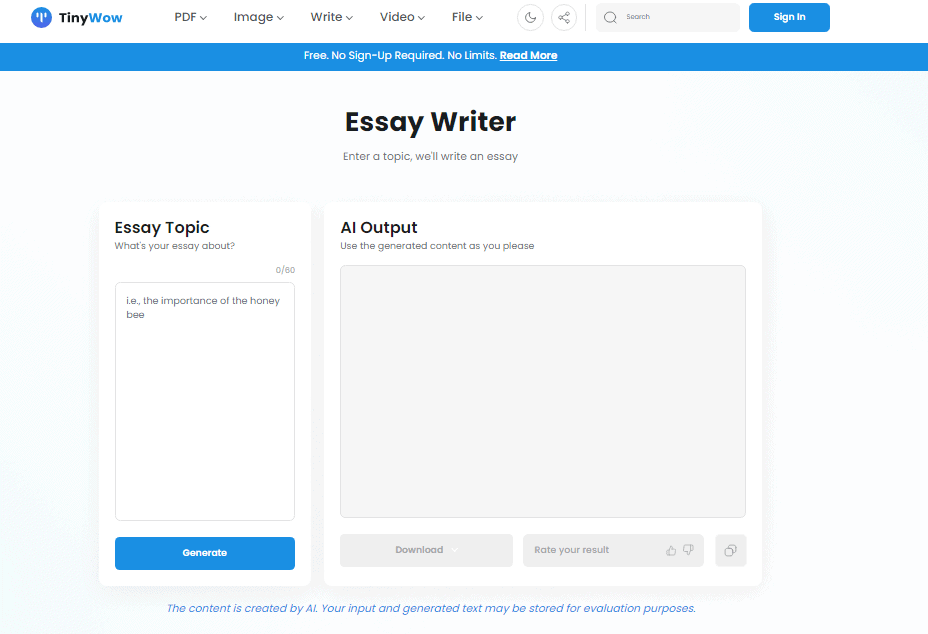 Tinywow's AI Essay writer is the third essay generator tool and an excellent option if you're looking for a ChatGPT alternative for essay writing. One of the best things about Tinywow is that you don't need to sign up for their website to use their AI Essay writing tool- and it's completely free to use with no limits!
The AI Essay writer from TinyWow is designed to be very user-friendly. You simply write the topic of your essay and click the generate button. In no time, you will have a beautiful and creative essay that can be used for several purposes, like college assignments and blogs. It also gives you the option to download your essay in text format onto your device, so you can use or modify it as needed.
Pricing
FREE
4. Smodin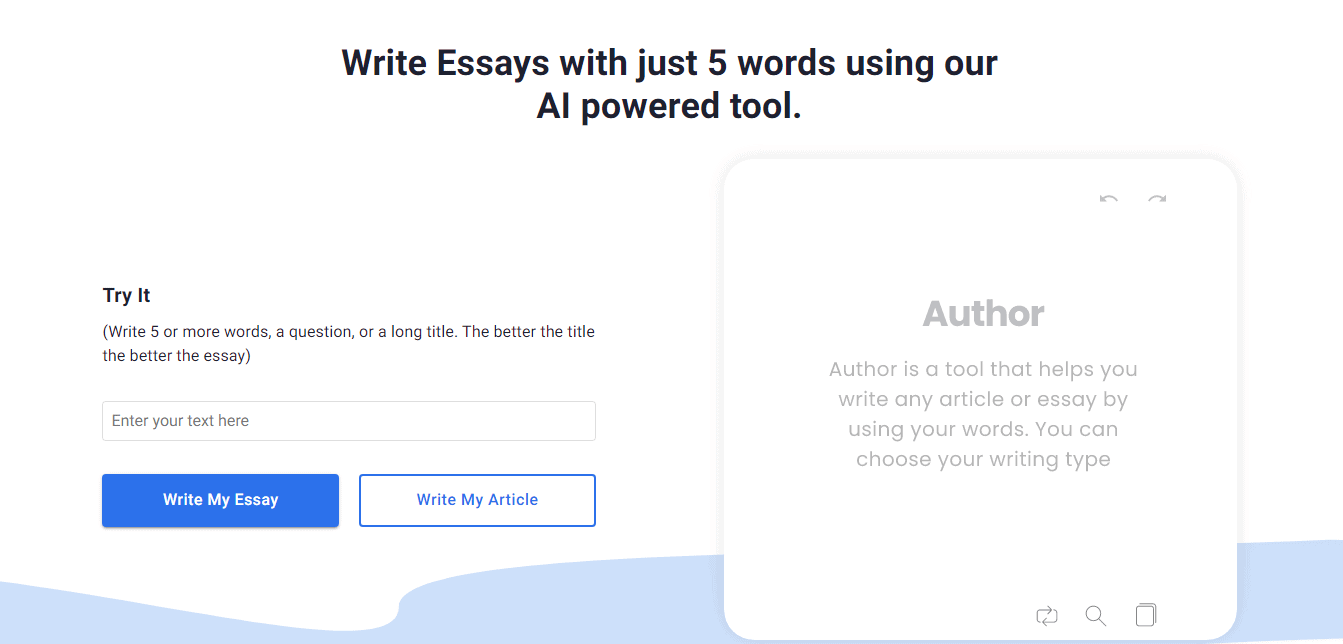 Another ChatGPT alternative for writing essays in our list is Smodin. Smodin is an AI assistant tool that makes writing blog posts and essays easier than ever before. Using natural language processing technology (NLP), Smodin generates high-quality, plagiarism-free content in minutes.
With its intuitive user interface, input your desired topic, and Smodin will do the rest. You'll have a unique, well-written essay or article in no time – no plagiarism checker needed!
Smodin.io helps writers improve their writing skills with a wide range of features. Some key features include grammar and punctuation checking, style suggestions, a plagiarism checker, and an article rewriter tool.
Pricing 
Free Plan: This is Smodin's free starter plan. With it, you get limited use of their AI Tools. You get 3 writing credits per day to use, 5 limited entries to the rewriter, plagiarism checker, and translator. All of which are capped at 1000 words.
Essentials Plan: Somodin's most popular pricing plan is only $10 per month and gives you 100 writing credits to use each month. You can also enjoy unlimited rewrites and plagiarism checks and access to all features like author tools and more.
Productive Plan: This plan provides the best value at just $29 per month. You'll have access to all features in the essentials plan, plus Google Scholar Search. This enables users to use Google Scholar while checking for plagiarism.
5. jenni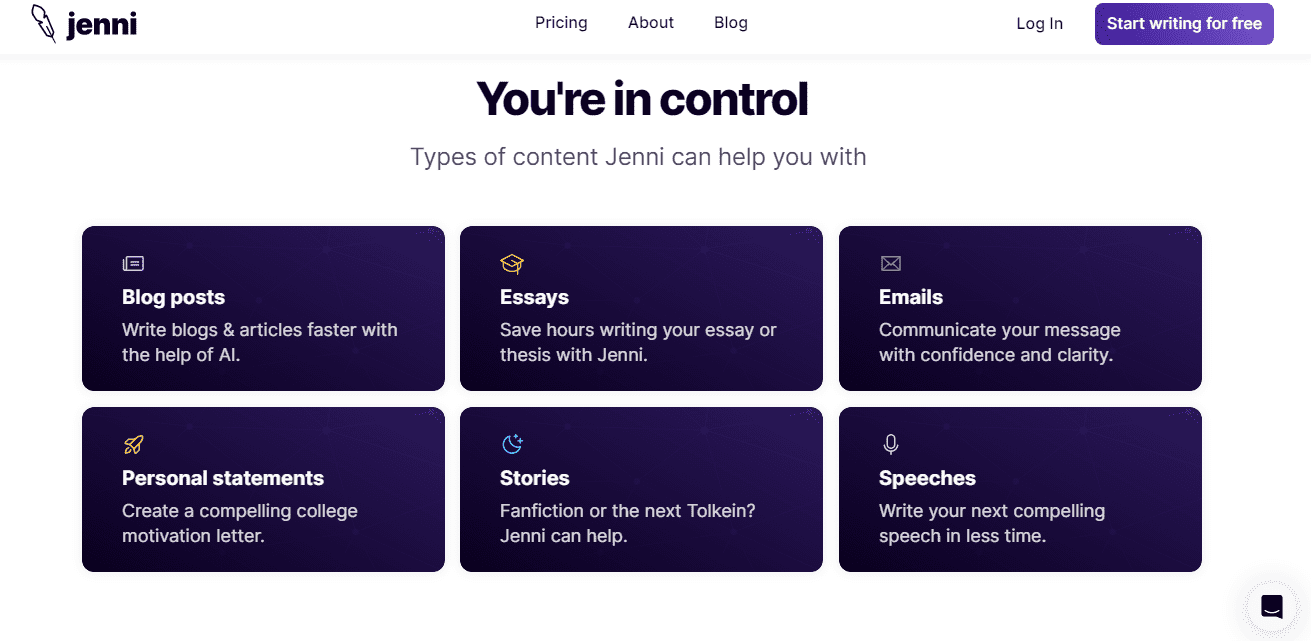 Another ChatGPT alternative for writing essays in our list is jenni.ai, one of the best AI software for essay writing, Professional blog articles, Emails, and all type of content. With its easy and simple-to-use user interface, you just need to write the title of your topic, and it will create human-like and readable personalized content for you in no minutes, which is 100 % plagiarism free so that you don't need to be afraid that your article is copied from various sources.
One of its features includes perfect grammar. Jenni assists the users throughout the writing process to create an excellent article with its grammar correction and suggestion feature.
Pricing 
Free: – With its Free plan, you get 200 Words per day to use.
Premium Plan: It comes with flexible Premium plans,
$12 per month, you will get additional 6000 words per month plus 200 free words per day (Billed Annually).

$21 per month, you will get additional 12000 words per month plus 200 free words per day ( Billed Annually).
$39 per month, you will get additional 24000 words per month plus 200 free words per day ( Billed Annually).
$71 per month, you will get additional 48000 words per month plus 200 free words per day ( Billed Annually).
$128 per month, you will get additional 96000 words per month plus 200 free words per day ( Billed Annually).
Conclusion
So there you have it, the top 5 ChatGPT alternatives for essay writing in 2023. Did we miss any? Let us know in the comments below. Thanks for reading!
Related Article
How to Paraphrase Text Using Artificial Intelligence in 2023