Without a doubt, search engines won't crawl your site if it's not set up in a way that makes it simple for both them and users to understand what it's all about. Although it might not be sufficient to go to the top of search engine results, here is the place to start.
Undoubtedly, a well-designed website is essential, but it cannot provide the best outcomes on its own. You must give "Search engine optimization guidelines" top priority if you want to make sure that your website is optimized for search engines and ranks better on result pages.
Websites must, according to general opinion, be "well-optimized," but how can a website be made "SEO-friendly"?
Therefore, we'll talk about some things to consider in this article in order to create a website search engine friendly.
First, let's understand what SEO is and Why it is so important for your business.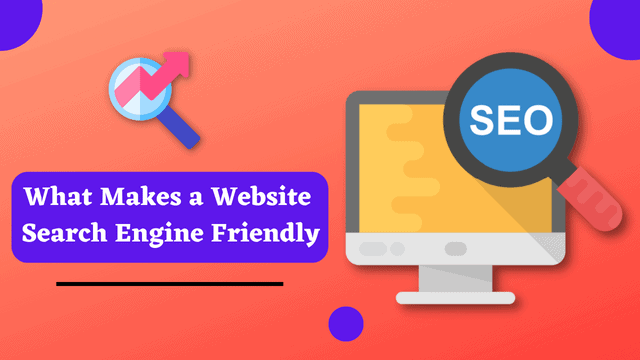 What is SEO
Seo stands for Search Engine Optimization, which is an online marketing technique that helps you bring your website or any piece of content to the top of the result pages of search engines like Google, Bing etc.
Unlike paid advertising, SEO helps you to organically rank your website or content to the top of the search results without paying anything.
The SEO of your website is important if you want people to find your content online. Let's say you have written an article about "Top websites to learn Java online", then you will want people to find your article when they search for that term in Google or Bing.
To make sure your article appears first in the search results, you need to rank above all the sites that are ranking in the search engine for that particular term, and that is all about SEO marketing.
Different Types of SEO
There are broadly 3 different types of SEO that you can do for your website to rank better on search engine result pages (SERP) for the relevant search term. This will, in turn, help increase your site's visibility and traffic. The three types of SEO are:
1. On-Page SEO
On-page Seo refers to the process of optimizing individual web -pages to rank higher in the search engine result pages for the relevant search terms. On-Page SEO involves :
Creating informative and Quality content that helps users to fulfil their requirements and engage with the content.
Optimizing the Title tags.
Optimizing Heading tags.
Optimizing Images.
Optimizing internal links.
Optimizing keywords.
Optimizing focus keywords.
Optimizing outbound links.
Relevancy of the content.
Optimizing Readability of the Content.
Optimizing the meta-description.
Optimizing Permalinks.
Checking for broken links and content plagiarism.
2. Off-Page SEO
Off-Page SEO refers to doing everything outside the website to increase its ranking in search engine result pages and improve its brand awareness, visibility, and traffic. Off-Page SEO involves :
Link Building.
Social Media Markeing.
Content Marketing.
Email Marketing.
Influencer Marketing.
Blog Commenting.
Forum Commenting.
Directory Submission.
Link building is one of the most important aspects of Off-Page SEO. Link building means getting links from websites that have good authority in the same niche as your website. This not only helps improve your website's ranking in SERPs but also drives referral traffic to your website.
3. Technical SEO
Technical SEO is optimising your website for Google's search engine crawlers. By helping Google's bot to successfully crawl, interpret and index web pages on your site, you can improve your site's ranking in search results. Technical SEO includes :
Using SEO Friendly Hosting
Using SEO Friend URL Structure
reating an XML Sitemap of your Website
Setting up Meta Robots tags and Robots.txt
Having a Mobile Friendly Website
Having an HTTPS-secured site
So we Have explored What SEO is and What are the different types of SEO. Now Let's understand how to make a Website Search Engine Friendly.
What Makes a Website Search Engine Friendly?
Let's explore some particular elements that must be taken into account and handled while building up a website for SEO:
1. Useful and Correct Page Title Tags
Each page of your website has to have a title. Results from search engines are strongly affected by title tags. It is shown by Google on the search results page (although it sometimes modifies the title). In order for the title to effectively describe the information on the page, it is crucial to include your target keywords.
Additionally, you shouldn't use the same title tag on more than one page and each page needs to have its own title tag. For the search engines to understand the title tags on each given page, they must be unique.
2. Headings and Subheadings
Specific header tags are included in the HTML standard (h1, h2, h3, etc.). To provide the appearance of headers and subheaders, several websites utilize strong text and higher font sizes. The search engines will be notified that a certain word or phrase is highlighted if the appropriate header tags are used.
The use of headers and sub-headers on a page helps in the organizing and structure of the material for search engines. H1 tags are frequently used for page titles, h2 tags for subheaders, and so on. Organize your page or post like an outline for a magazine.
3. Meta Description of an article
Although a meta tag is not visible to the visitor, it is used to give search engines information. The description meta element is employed by various search engines to describe the website in the search results. Every page should have a meta description as the search engine results page typically displays it (SERP).
It's crucial to keep in mind that the page descriptions you provide affect how many people click through to your website from search engine results. A description should be eye-catching and engaging.
4. Alt Tags
An alt tag, which is a short description of the picture, is displayed when the mouse hovers over an image. Alt tags are significant for the following reasons:
Users who are disabled and unable to view photos may rely on the alt tags in certain situations.

Since search engines scan alt tags, it is a good idea to include keywords or phrases that are connected to the image.
Instead of stuffing the alt tags with keywords, attempt to add words and phrases that are logically relevant to the image.
5. Good Quality Content
Google and other search engines work hard to deliver the most relevant search results in order to help people in finding what they're looking for. The effectiveness of your SEO depends heavily on the quality of the content on your website.
You should write your content for readers rather than search engines. You should absolutely follow SEO best practices, such as producing original, readable material that benefits your users, in order to optimize your content for search engines. Keep in mind that the value of your website's users should never take priority over the importance of SEO.
6. Latest Content
In addition to offering relevant information, such content needs to be updated often. Even after they have been published, blog postings should still be updated. refers to the fact that you may update previously published information and publish it. You may routinely update your material in this manner, which will make your website search engine friendly.
7. Topic Relevancy
Your blog or website should focus on a single topic or a cluster of related topics. Websites that are highly specialized or focused typically have an easier time ranking well for the subjects they are connected to. Instead of covering a wide range of topics, search engines prefer websites that rely on certain expertise. Stick to subjects that are appropriate for both your website and the target audience.
SEO Service Providers for Your Business
SEO is a very time-consuming and complex process, as it takes months to see the results and having the right SEO experts and SEO tools, you can significantly improve your search engine ranking in no time with the right guidance and proper implementation.
So here is the list of top SEO service providers you can choose from.
Final Remarks
By building a website that complies with the guidelines described above, you may improve your search engine optimization efforts. Link building and consistently producing high-quality content are important components of SEO.