Hello Friends, Welcome to another article. In this, we will take a closer look at what moves management is, the stages of the donor life-cycle, and how to effectively implement moves management to increase donations for your organization and build long-term relationships with donors.
What is Moves Management?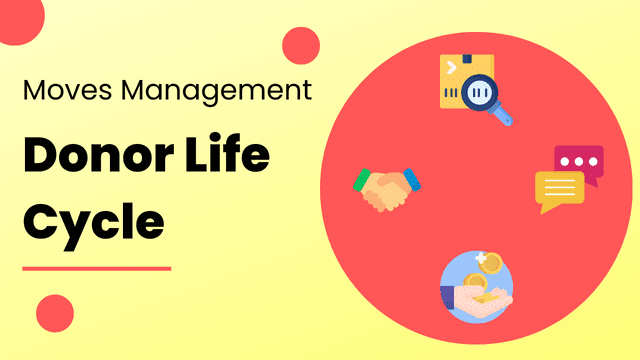 Moves management is a structured approach for fundraising used by non-profit organizations to identify, cultivate, and solicit potential donors.
The moves management aims to cultivate relationships with donors and move them through a series of stages toward making a donation. These stages typically involve starting from identifying potential donors and ending with a donation being made.
The moves management process is an important process for non-profit organizations to build long-term relationships with potential donors, encourage them to repeat donations, and increase the donation size.
Stages of the Donor Life-Cycle
Broadly, There are four stages in the donor life cycle Identification, Cultivation, Solicitation, and Stewardship. Let's have a look at them one by one.
Identification Stage
The first stage of the donor life cycle is to review the existing database and identify the best prospects to approach who may be interested in supporting your organization's mission. This stage involves researching and gathering information about potential donors, such as their contact information, interest, and giving history. Once the potential donors have been identified, the organization can make several outreach strategies.
A constituent relationship management system – a CRM (or a donor database) – is an extremely useful tool for effectively organizing and managing information about your current and potential donors. A CRM makes it easy to track a donor's interactions with your organization, including notes about their interests, capacity to give, and inclination to give.
With the comprehensive charity CRM of julepcrm.com, you get all the tools needed to effectively manage and create targeted and personalized outreach efforts, which ultimately increases the chances of building successful relationships with donors.
Cultivation Stage
The cultivation stage in moves management is the process of developing a relationship with a potential donor. This is the stage where the organization moves from simply identifying potential donors to actively engaging with them and building a deeper connection.
This involves nurturing the relationship over time and building a rapport with the donor. This stage of moves management is all about using the information you have to create a strategy for reaching out and getting to know your donors throughout the year.
Using your sorted data of potential donors, it's time to start planning how you'll engage with them and selecting the methods you'll use, such as phone calls, emails, and Personal visits, to engage with the donors. This will help them learn more about your organization and clear up any doubts they have.
The goal of the cultivation stage is to move potential donors closer to donating by building trust, understanding, and engagement with the organization's mission, programs, and activities.
Solicitation Stage
The solicitation stage is the point in the donor life cycle where the organization formally requests a donation from a potential donor.
This stage typically comes after the cultivation stage, where the organization has built a relationship with the potential donor, and the donor indicates their willingness to give. During this stage, it is important to follow up with the donor if they have any questions, to ensure that they have the information they need to make a donation.
The goal of the solicitation stage is to convert a potential donor into an actual donor by making a formal request for a donation. It is also important to remember that not all the potential donors will give the donation, and the organization should not take it personally.
Stewardship Stage
The stewardship stage in moves management is the process of engaging with donors in stewardship activities to build a long-lasting relationship after a donation has been received. This can be done through thank-you notes, receipts, and other forms of recognition, such as listing the donor's name on the organization's website or in a newsletter.
The donor needs to feel appreciated that their contribution has made a positive impact and it is going to be used for the organization's mission and programs. This will help them feel like their donation matters and that they are part of something large.
This stage is critical to maintaining the donor's engagement with the organization and encouraging repeat donations and even larger gifts in the future.
Additionally, The key to successful moves management is to create a plan and stay organized. That's one of the reasons why nonprofits should use a CRM to manage their fundraising plans and donor information. Julep's Moves Management feature helps you follow the steps mentioned above. If you want to learn more, sign up for a Julep CRM demo today!
Conclusion
In conclusion, With proper understanding and implementation of moves management, organizations can increase the likelihood of a donation being made and the size of the donation.