Are you looking for the most reliable Web scraping API, then you have landed at the right place. In this post, I will talk about ScrapingAnt, which is one of the best web scraping providers that allows you to solve scraping tasks of any complexity. ScrapingAnt also let us provide a custom software development service. Data harvesting, data storage, or data querying – they deliver the best and most affordable custom solution that fits all your needs. 
If you are interested in the ScrapingAnt, then you can visit their website
What is Web Scraping?
Web scraping or data scraping is a form of extracting information from a website, web page, or web app and saving it in a spreadsheet or local file. Web scraping can be used for various purposes, including data mining, content aggregation, and web application programming. Web Scraping can be done either manually or using software tools, and in most of the cases, software tools are used that run on our computer because they are cheaper and less time-consuming.
ScrapingAnt – A Simple, Robust & Effective Scraping Tool for Web Scrapers
There are various web scraping tools in the market, but the question is, which web scraper tool is best for you?And the obvious answer is that it depends! If you know the web scraping needs beforehand, it will be much easier for you to pick the right web scraper according to your needs. However, we think you should definitely give ScrapingAnt a chance. What I love about it is how easy and quick it is to learn and feel comfortable using it. If you are already a software developer, you can use it with any programming language that can make API calls, and it offers python and javascript API clients.
ScrapingAnt helps you eliminate the challenges that many professionals have to face while handling Javascript rendering, headless browser updates, and maintenance just by using their web scraping API that automates the data mining routines and provides solutions for all these.
"Best Customer Service in the Industry says it all. Only solid products can offer great customer service.
The Open Source working solutions get you scraping successfully day one."

Joseph K., Developer
With unlimited parallel requests, ScrapingAnt offers three million-plus proxy servers worldwide. Services provided by ScrapingAnt are below.
Chrome Page Rendering
Low Latency Rotating Proxies
Javascript Execution
Custom Cookies
Fastest Amazon Servers
CAPTCHA Avoidance
Pricing Plans
ScrapingAnt offers various subscription plans, or if you have any custom plans, then you can reach out to them as per your requirements. You can sign-up with a free plan which is for personal use, and the best thing is you don't need a credit card for the sign-up process. The Free plan gives you 10000 API credits.
What is an API Credit?

Each subscription plan contains a particular amount of API credits per month. Depending on the parameters you configure your API calls, it will cost you from one to several credits. Each request costs 10 API credits by default because JavaScript rendering and Standard proxies are enabled.
You can see the image below to know more about their pricing plans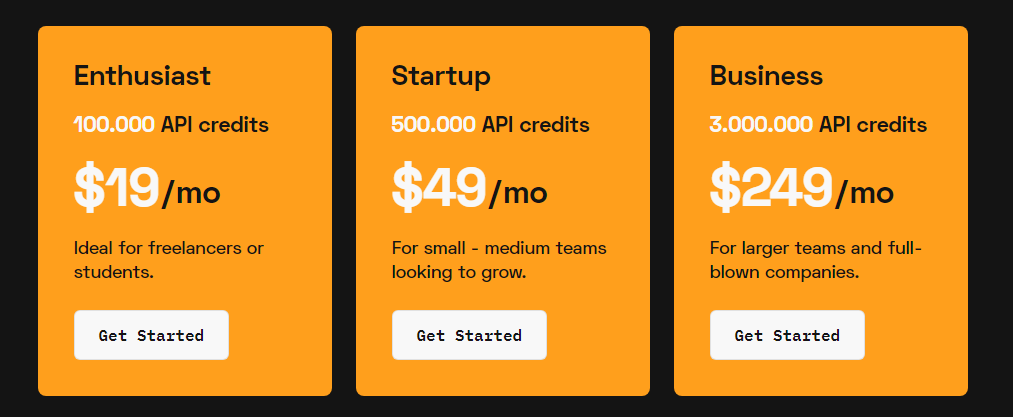 Enthusiast Plan

Email Support
Documentation-only integration

Startup Plan

Priority email support
Expert assistance
Integration with customcode snippets

Business Plan

Priority email support
Live integration calls
Expert guidance and integration planning
Custom proxy pools
Custom avoidances
Dedicated manager
Conclusion
So in this post, I have explained one of the most reliable web scraping providers, ScrapingAnt, and if you are interested in using their services, you can visit their website. ScrapingAnt