Are you looking for website for Tuning SQL Performance services? In this article SQLTuned – A Complete Database Optimization Solution Provider Company, we will discuss a very good company SQLTuned which provide tuning SQL performance services. They will help you to bring your database performance back to life. So read this article till the end to know everything about their Tuning SQL performance services.
But before knowing this company we will let you know some basic things about tuning SQL performance. So let's get started.
Remember, you have bought a new car some time ago. Firstly this car performs very well but after a while its performance is slowing down. This happens with all the things such as a computer, human body or any other thing of this world.
Like this database also slow down after some time. SQL querying taking a lot of time to respond the result. So to accelerate SQL server performance we need to do tuning the SQL.
So Tuning SQL performance is the process of ensuring that the SQL statements issued by an application run in the fastest possible time. In other words, tuning SQL statements is finding and taking the fastest route to answer your query, just like discovering the fastest route to your home after work.
Ways to Tune the Performance of an SQL Server
Now the question is that how can we tune SQL performance. So here are some ways which helps to tune the performance of SQL. Let's see them –
Reduce the use of temp tables
Improve your indexes
Reduce I/O bottlenecks
Avoid the use of SELECT
Avoid correlated queries
Do not shrink data files
These are some ways to tune the performance of an SQL server. If you want to know these ways in details then visit here.
So we have discussed about tuning SQL performance. Now let's discuss about SQLTuned company which provide tunning of SQL performance services.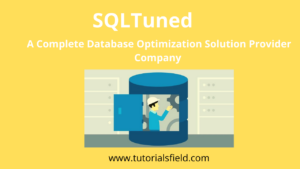 SQLTuned Review – Optimize Your Database With SQLTuned
An Overview Of SQLTuned
SQLTuned is a Tuning SQL Performance service provider. They can bring your database performance back to life.
They have the expertise, experience, and proven steps to get your database performing and you back to living if you are facing following issues in your database.
Initial design was poor
Queries are running slow
Deadlocks are causing havoc
They will help you to solve your problems quickly and efficiently. Saving your business money and making you look like a superstar database administrator.
Why To Choose SQLTuned?
They provide the complete SQL performance tuning solution which are following.
Database Optimization – Databases and the computers that store them are affected by the ravages of time. As more information is stored in the database that information will lose it's optimization. SQLTuned will resolve all these issues.
SQL Performance Troubleshooting – Poorly designed TSQL and SPs can introduce timeouts and deadlocks, slowing your once fast database, to a slow crawl. Adding hours of wait time to each week.

Skilled SQL Professionals – Even with an IT professional in your organization, that doesn't mean you have all the skills for optimizing the performance of your systems, that where SQL Tuned come in.
Their SQL Tuned Process
They tune your SQL performance in following 6 steps process –
Discover – In this step, they will ask you some initial questions.

Plan – In this step, they schedule a date and time to meet.

Review – In this step, they meet and listen/watch your issues and concerns.

Actions – In this step, they provide a top ten list of must do's to quickly get you issues resolved.

Finetune – In this step, they run a profile on your system.

Resolve – In this final step, they will provide a final analysis for you to implement.
Final words are that they will resolve your database performance issues, and your database back up to it's peak efficiency. Efficient database means less time, less time can equal lower costs. SQL Performance tuning can help lower your costs.
So if you are looking for Tuning SQL Performance then don't forget to visit their website SQLTuned which can bring your SQL database performance back to life.
So now I am wrapping up this post here. If you want to do tuning of your database then contact to this company. And If you want to discuss any thing about their tuning SQL performance services then feel free to contact with them via their contact details.