Remote Desktop Software is software that can help you connect to a remote computer and use that computer as if you were physically sitting in front of it. The software allows you to control the other computers from your computer. This article will look at the 3 best Remote Desktop Software for Windows for 2023.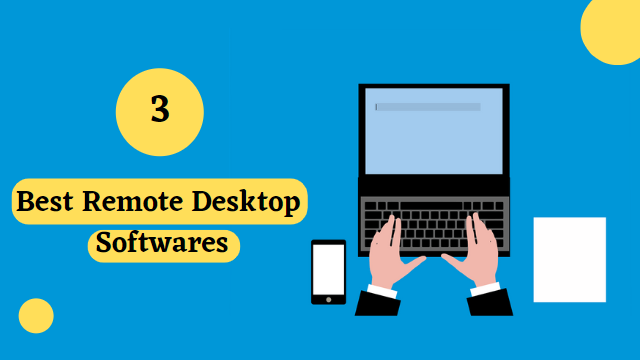 What is a Remote Desktop Software?
Remote desktop software is a type of software that allows you to control another computer remotely. IT professionals typically use it to help troubleshoot issues on a remote computer. It allows a user to connect to a remote computer and access its files, applications, and data.
A remote desktop can be used to provide support to another user, or to access files and applications on a remote computer. Remote desktop software can be used to access a computer that is on the same network as you or a computer that is located elsewhere.
Advantages of Using Remote Desktop Software
There are many advantages to using remote desktop software, which allows you to access another computer from your own. This can be very useful if you need to work on a project with someone who is in a different location, or if you need to access files or applications that are only stored on the other computer. Remote desktop software can also be used to provide technical support to someone who is having trouble with their own computer.
Improved collaboration is another advantage of using remote desktop software. You can easily share files and work on projects together, no matter where you are. This is perfect for teams that are spread out across the world.
Overall, remote desktop software can be a handy tool for anyone who needs to access another computer from their own. It can be used for various purposes, and can be a great way to stay connected with others or work on projects offline.
3 Best Remote Desktop Software for 2023
#1 Getscreen.me
So the First Remote desktop software on our list is Getscreen.me. It is a simple remote desktop software with many essential features. It is also great for one-off sessions since it takes minutes to get started. First, download the app from this link and then run it on your remote desktop and then send the link to another user to whom you want to give access.
With this link opened in a new browser, your client can create a one-time secure connection to your computer without requiring any password. The client computer can access all the features of the remote desktop software, including mouse and keyboard control, chats, calls, file-sharing, and much more.
In addition, you can enjoy continuous access to other desktops while you sign in to the app, and if you are supporting remote clients, you can schedule a session in your account and invite your client to join. Therefore Remote access is significantly easier with Getscreen.me.
#2 Chrome Remote Desktop
Next on the list is Chrome Remote Desktop, an extension that runs on chrome which means it can work within any operating system, including Mac, Windows, Linux, and even in Chromebooks. Setting this up on a host computer is straightforward.
First, install the extension and then share a random code from the remote support or password, which you can set from the remote access to the host computer. Then on the client side, use that code or password to connect to the host computer.
Moreover, the client can remotely access the host computer even if the chrome browser is closed or logged out of the user account. Finally, it also features multi-monitor support, a file transfer tool, and more.
So if you want to easily access your work or home desktop from anywhere, Chrome Remote Desktop is an excellent option.
#3 Cybele Software
Next on this list is Cybele Software. Cybele is unique in its ability to securely deliver Windows applications and desktops to any device with an HTML5 browser, whether they are hosted on the cloud, installed on-premises, or on hybrid architectures.
Cybele is an excellent choice for your remote desktop software for a number of reasons. Some of its key features include
Remote printing
File transfer between remote machines and portable devices
Multi-monitor support (allowing access to up to 16 virtual monitors per session)
USB redirection
Extended clipboard redirection
Multi-language support, and one-step direct download.
We hope you enjoyed our article on the 3 best remote desktop software. You should have a good idea of what kind of remote desktop software will work best for you. So what are you waiting for? Pick one of the solutions above and get started right away!