Looking for a cloud-based hotel software solution that can help take your independent hotel business to the next level? Managing a hotel property can be overwhelming. With so many tasks to keep track of, it can be hard to stay organized and on top of the daily operations. That's where Preno comes in.
Preno is a cloud-based property management software designed to make managing your hotel easier. In this blog post, we will take a look at Preno and its features so you can decide if this is the right software to manage your accommodation business.
What is Preno?
Preno is a hotel software company that offers cloud solutions for independent hoteliers. Its PMS(Property Management System), Channel Manager and Booking Engine help operators run their front desk and back office more efficiently, automate daily administration tasks and streamline their workflow.
It automates daily operations for accommodation providers, saving them an average of 10 hours a week on the admin and generating 50% more bookings.
With a powerful PMS ( Property Management System), channel manager and booking engine, it helps to streamline administration and integrate departments, boost your bookings and increase your profitability.
Preno is the perfect fit for various accommodations, whether you're a boutique hotel or a luxury lodge. Their versatile software can be easily tailored to small to medium-sized accommodation providers.
Preno is also integrated with leading apps Xero, Staah, and Siteminder, making it a smart choice for a variety of property types – from boutique hotels and motels to campgrounds, luxury lodges, and more.
Features of Preno
Preno offers a wide range of features which includes:
Effortless Navigation and Personalized Experience
Experience the ease of use and straightforward navigation of Preno, the cloud-based property management software. Benefit from its visually appealing and straightforward colour-coded grid that allows you to view past, present, and future bookings with ease.
Enjoy the flexibility to effortlessly adjust bookings and room types with Preno's intuitive drag-and-drop feature. Easily filter groups, status, and payment types to view specific booking types within your property management system. Create personalized guest profiles to make your repeat guests feel valued.
Streamline Your Accounting with Preno's Xero Integration
Preno's integration with Xero makes it easier to manage your accounting by allowing you to push payments through Preno and map them to the desired accounts within Xero. Reconciliation is easier with Preno and Xero, so you can save time and increase accuracy.
This best-in-class property management software & accounting integration also makes it easy to map deposits, simplifying your admin work. Plus, all data within your existing Xero account will automatically transfer to Preno, so you can quickly generate & send agent invoices.
Insightful Reporting
As an insightful property management software, Preno creates automated reports so you can track occupancy, revenue, and other key metrics. This allows you to set future goals, analyze past property performance & pinpoint room for improvement.
Preno's smart PMS software tools generate performance reports behind the scenes so that you can track your business's performance. Easily download & understand property management system reports that provide an overview of key metrics. Use this data to optimize Preno's best property management software tools to make effective changes to your business.
Seamless Connections with Online Travel Agents
Preno offers a channel manager that syncs with 56 of the most popular online travel agents, so you'll always have up-to-date information on your reservations and availability. This includes industry giants like Booking.com, Expedia, and Airbnb.
24/7 Personal Customer Support 
Preno offer 24/7 customer support to providing responsive, personalized customer support. To get you set up and ensure any unique property requirements are addressed, they provide live demos and training of their PMS software.
Their customer success agents are always available to answer your questions, whether you reach out to them through the in-app chat, over the phone, or via email.
DEPLOYMENT
SUPPORT
TRAINING
✅ Cloud, SaaS, Web-Based

✅ Email/Help Desk

✅

Live Online

✅ FAQs/Forum

✅

Webinars

✅ Knowledge Base

✅

Documentation

✅

Phone Support

✅

Videos

✅ 24/7 (Live Rep)

✅ Chat
Pricing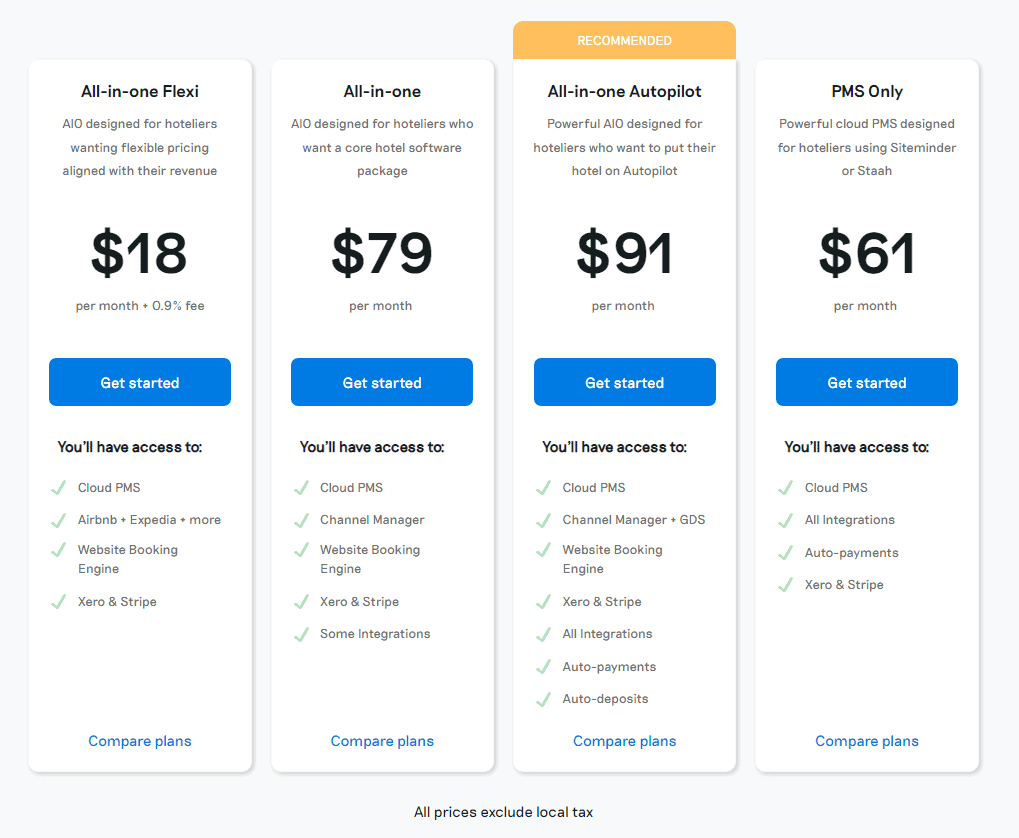 Preno offers a 7-day FREE trial with no need to enter card details to get started.
Conclusion
In conclusion, Preno is a powerful hotel management solution which is an excellent choice for any hotelier looking to save time and money. It offers a range of features that automates and streamlines daily administration tasks allowing them to spend more time growing their business. Finally, Preno is very affordable, and a free trial is available so you can try out the software before committing to it.