Many people ask us if there is a way that they can find out what their kids are doing on their smartphones. In fact, sometimes they want to know who they're talking to and what they are saying to them. There are a number of different ways that you can do this and one of the most popular is through finding an app to install on the phone.
These apps are designed to help a parent to monitor their child, boss to monitor an employee, or spouses to monitor each other. The apps also come in handy when you want to keep an eye on your employees, or if you are an employer and need to monitor your employees.
But which is the best phone monitoring app for Android & iOS? This Article will look at the different apps on the market and help you find the best phone monitoring app for android & iOS and why you might want to consider them.
Best Phone Monitoring Apps for Android & iOS
The Need for Phone Monitoring Apps
Our phones have become the vital lifeline to our personal and business lives. With so many people depending on smartphones and their data, phone monitoring apps are becoming more and more popular.
Phone monitoring apps can be used to check up on your children, monitor your employees, and even to catch a cheating spouse.
5 Best Phone Monitoring Apps for Android & iOS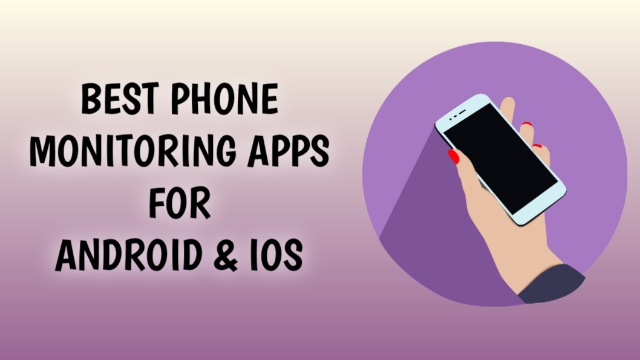 While there are many phone monitoring apps out there, not all of them are worth your time and effort. We want you to make sure your time is well spent, so we've put together a list of the best phone monitoring apps out there right now. These are the top 5 phone monitoring apps for Android & iOS.
#1 mSpy
The first app we'll take a look at is mSpy. This is one of the best parental monitoring apps available. It is a robust platform with features like mobile phone monitoring, location tracking, multimedia file monitoring and online activity tracking among others. It allows you to control apps and programs on a hidden device from distance. mSpy is a fantastic app that has all of the functions needed for parental control.
It allows you to keep track of every keystroke and tap as well as social network chats and shared photos. It gives all of these surveillance capabilities while remaining undetected.
This app is compatible with both Android and iOS devices.
Price
1 Month – 48.99$/month*
3 Months – 27.99$/month*
12 Months – 11.66$/month*
#2 Mobilespy.at
The next app on our list is Mobilespy.at. Mobilespy.at is a spy app with a lot of features. It is the only smartphone tracking app that gives you real- time access to GPS, Camera, Photos, Call recordings, Call notifications, Social media messages, Whatsapp, Facebook, Instagram, Sms and everything else.
Mobilespy.at is ideal for both parents and businesses looking for the most advanced spy app available. Mobilespy.at is available on both Android and iOS devices.
Price
Mobilespy.at has a seven day free trial.
1 Month – 19$/month
3 Months – 16$/month
6 Months – 13$/month
#3 SPYERA
SPYERA is the next app on our list of top 5 best phone monitoring apps. SPYERA is a multi-award-winning espionage app for both PCs and Smartphones. It has outstanding espionage capabilities that work flawlessly.
It's most well known functions include location tracking, monitoring employee or child mobile phone and computer activity and much more.
The app is extremely intelligent and excels at all of its espionage functions. Spyera is compatible with Windows, Mac, Android and iOS.
Price
Smartphone (iPhone or Android) – 89$/month
Tablet (iPad or Android) – 69$/month
Computer (Windows or Mac) – 49$/month
All in One – 479$/year
#4 My Cell Spy
Looking for a reliable and professional monitoring solution provider? My Cell Spy specializes in tracking and monitoring tools for smartphone users, helping parents protect their kids from online threats.
Using My Cell Spy app you can monitor your target phone from anywhere, and see what's happening on the phone. This way, you can keep track of your target phone's activity and ensure that it is being used properly.
You can use My Cell Spy App to track SMS, phone calls, chat messages, GPS locations, camera, voice, photos, videos, WhatsApp, Facebook Messenger, Viber, Internet activity and almost everything you want to know.
For more information you can visit the website xtmove.com.
Price
Free Trial of all functions.
#5 FlexiSPY
FlexiSPY is another famous phone spy app that is usually ranked among the best in its category. It's extensive and user friendly features has made its reputation as one of the best apps for remotely monitoring a device.
FlexiSPY boasts more features than any other spying app on this list or currently available on the market.
It is compatible with both Android and iOS devices and provide users with a comprehensive phone spying experience. However unlocking it's advanced functions are incredibly costly.
Price
LITE Plan –
29.95$/month
PREMIUM Plan –
1 Month – 79$
3 Months – 119$1
2 Months – 179$
EXTREME Plan –
1 Month – 119$
3 Months – 239$
12 Months – 419$
Conclusion:
Phone monitoring apps can be very useful as a parental control device or a tool for businesses to track employee activity.