Hello friends, In this blog, we will be talking about arguably the most important and most challenging SEO strategy, which is called link building. To kick things off, we'll talk about what it is, what link-building services are, and the 3 Best link-building service providers for 2023.
What is Link Building?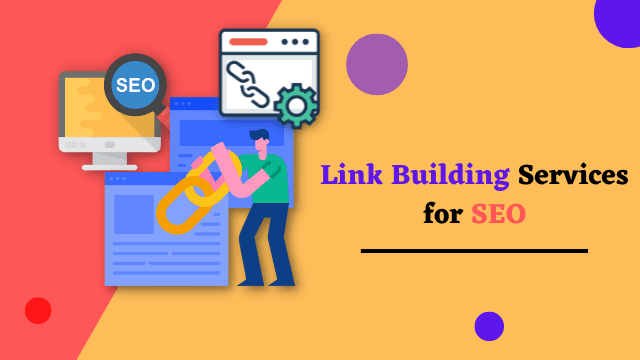 Link building is the process of acquiring links or inbound links to a page on your website, and these hyperlinks are called backlinks. These links help to establish the website's authority and credibility in the eyes of search engines like Google and Bing, which in turn can lead to higher search engine rankings.
In simple terms, the more high-quality links pointing to a website, the more likely it is to rank well in search engine results pages (SERPs). Link building can be a challenging and time-consuming process, but it's definitely worth it if you're looking to improve your SEO, and this is why link building is considered an essential component of any search engine optimization (SEO) strategy.
It's important to remember that not all links hold the same weight. Google and other search engines take into account the context and quality of links for ranking websites – not just the quantity of links. A link from a higher authority website in the same industry as the linked-to website is worth more than a link from a low-quality or irrelevant website.
Link Building is a time-consuming process, and there are several strategies and tactics for link building, such as :
Guest blogging 
Guest blogging is one of the oldest link-building strategies, and it involves writing articles for other websites in the same niche and linking to your own site in that article.
Broken Link Building
Broken Link Building is another strategy that involves finding broken links related to your niche on the internet, creating content related to that resource and asking website owners or administrators to link to your resource instead of linking to that dead resource.
Outreach
Outreach is another link-building strategy involving reaching out to people in your niche, introducing them to your content, and asking them to link back to your site.
The main purpose of this approach is to expose your website to a wider audience and gain more visibility to your site.
You also need to keep in mind that outreach strategy can be time-consuming and that not all people will agree to link to your site. However, when done correctly, it can be an effective way to acquire high-quality backlinks and increase your website's visibility.
Using Link Building Service Providers
Link-building service providers are companies or individuals that offer link-building services to businesses. Like anything else, Links can also be bought.
Link-building service providers can benefit businesses that do not have the time, resources, or expertise to conduct link-building on their own. They can help you to acquire high-quality links in a targeted and strategic manner, improving a website's search engine rankings and increasing visibility.
What are Link Building Services
A link-building service is a type of promotion used by an SEO agency to help increase traffic to your website. It is usually done by link builders who find high-authority websites related to your niche and place links on pages that point back to your site, which can help improve your website's search engine rankings and performance.
Various Link-building tactics and strategies are used, such as guest blogging, outreach, broken link-building, etc.
Best Link Building Services for 2023
Are you looking for the best link-building service providers in 2023? Then this section is for you, here I have compiled the list of 5 Best Link building service providers with their specifications and the services they offer.
1. LinkLifting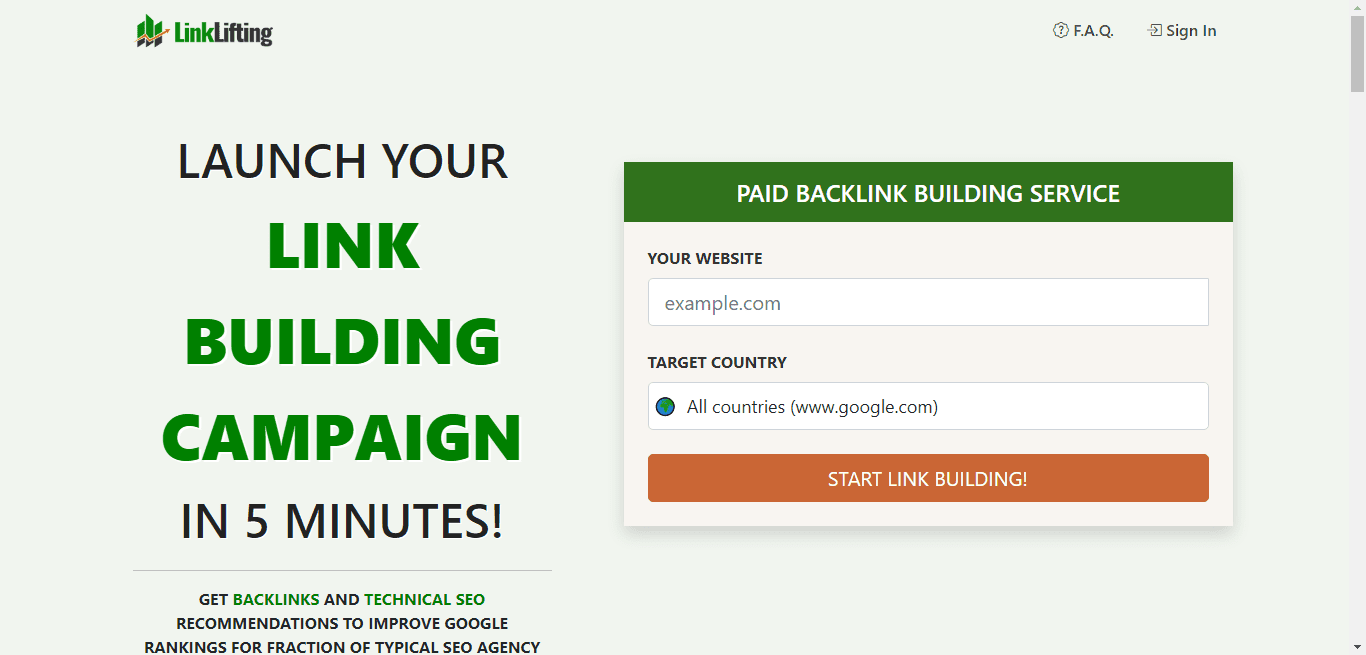 LinkLifting is one of the best Link building service providers in the market. They provide complete link-building services for small businesses, SEO agencies and consultants, medium-sized companies, and freelancers.
Their services are designed to help businesses succeed in their niche by providing them with the tools and resources they need to rank higher in search engine results.
It is a fully managed service which experienced SEO Professionals run with a massive database of high-quality websites to find effective backlinking opportunities.
To Promote your website, you need to enter the name of your website, and their system will automatically suggest the keywords and find the relevant pages of your website for the promotion and provides you with a monthly budget to achieve your target.
Some of their features include:
Unmatched link-building database
Launch your project instantly
Minimize your cost using automation
Monitor your SERP position daily
Easily control your expenses
2. LinksThatRank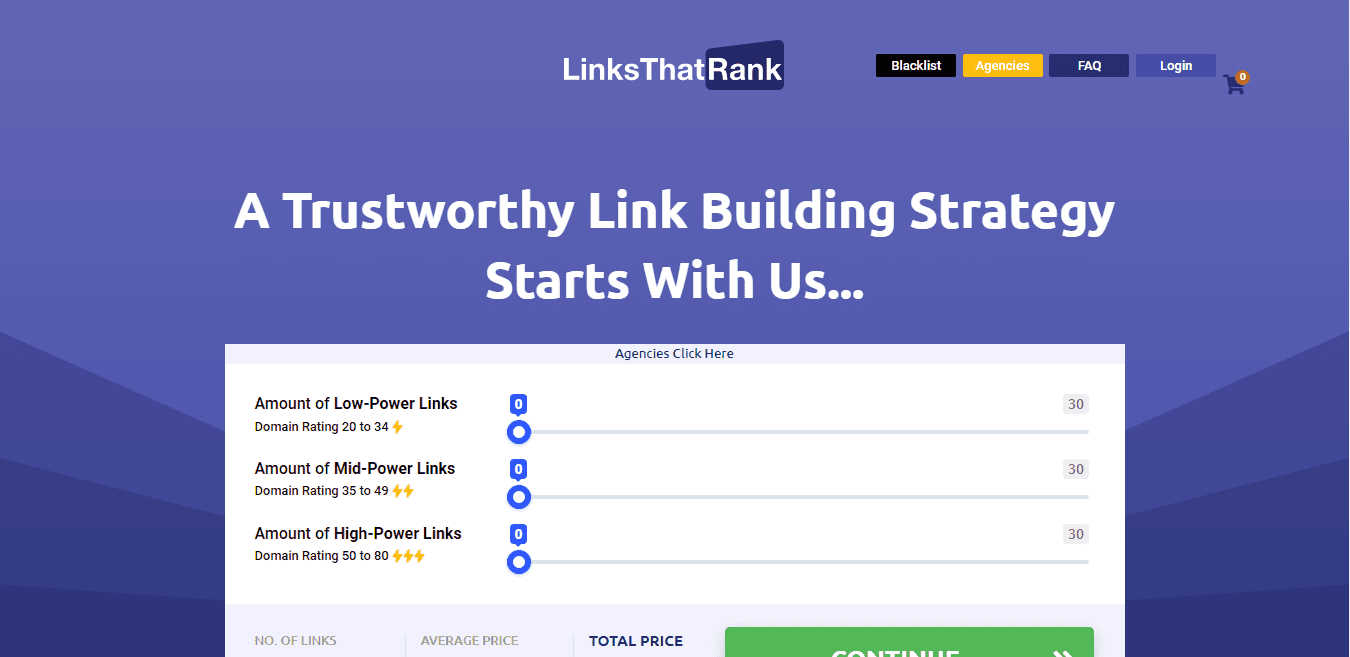 LinksThatRank is another link-building service provider on our list. It has a simplified link-building service where you just need to tell them about the URL and target keyword you want to rank for and forget about the other technical details like site quality, link placement, metrics, anchor text and content length because they will do it all for you.
One of the best things about them is they take care of everything from quality control to content creation. All you have to do is sit back, relax and wait for the report to be delivered.
Some of their features include:
Strict Quality Control that you can trust
Relevant Placements
Professionally written niche-relevant content of 1000+ words.
No Author Bios
Google trusted sites with a minimum of 500 organic visitors per month
Don't place links on sites that have "write for us" pages.
3. ECommerce Link Builders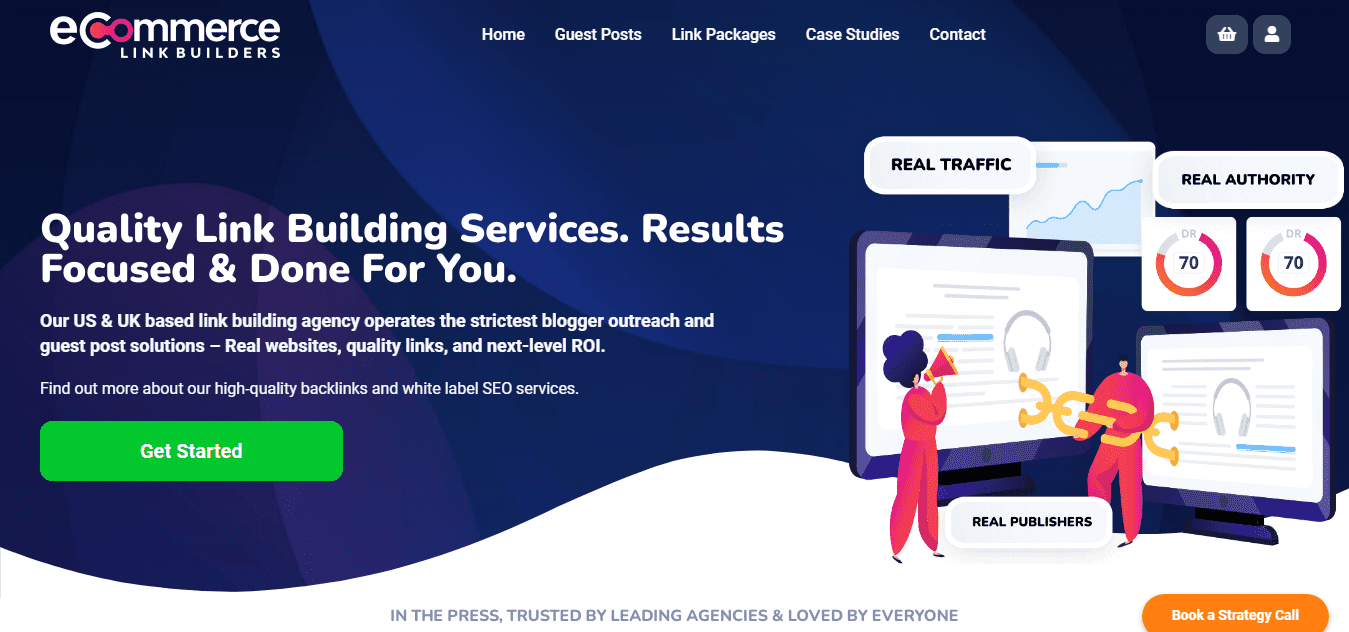 eCommerce Link Builders is another link-building service in our list, and their core focus is the quality of the links they provide to ensure that your ranking goals are achieved faster.
With their Results focused link-building strategy, you will go through a bespoke strategy with their dedicated SEO experts to meet your goals without overspending on links you don't need.
Their link-building agency is based in US and UK and operates the strictest blogger outreach and guest post solutions with real websites, quality links and next-level ROI.
Some of their features include:
Results Focused Link Building Strategy
Trustworthy Link Quality Control
Industry Leading Blacklist Policy
Genuine relevant websites
35 point quality control review
Conclusion
In conclusion, link-building is a crucial component of any SEO strategy, and choosing the right link-building service provider is essential.
In my suggestion, LinkLifting is a great place to start if you're looking for a reliable link-building service.