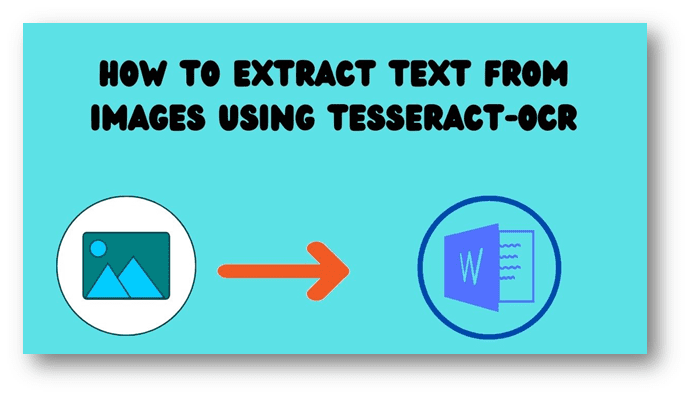 Tesseract-OCR is one of the main pillars of OCR tools today. So, what exactly is it?
OCR tools have many shapes and forms; one of the leading ones is Tesseract-OCR. It's a Google-owned OCR engine. So, how does it extract text from images? Let's dive in and understand Tesseract-OCR and see how it works.
How To Extract Text From Images Using Tesseract-OCR
What is Tesseract OCR?
Tesseract-OCR is a Google-owned engine that allows users to extract text from images in any of the supported languages.
In other words, if you are willing to efficiently extract text from the image, OCR Online is a free and open-source software for optical character recognition (OCR).
Here are a few important things about Tesseract OCR:
Tesseract OCR is a free optical character recognition engine for various operating systems.
It's mainly written in C and C++ programming languages
It can be used to extract text from images in a variety of languages supported by the main framework.
Tesseract-OCR was developed by Hewlett Packard in the 1980s, but it is now an open-source project led by Google since 2006.
It supports more than 100 languages and can be trained to recognize new ones. That's why it's the primary tech used in the majority of online OCR tools or software today.
As mentioned before, HP Labs originally developed it between 1985 and 1995, but the commercial entity no longer exists. Since then, it has gone through many changes and uplifts.
Thus, it was released as free software under the Apache License 2.0 on September 18, 2011.
The latest stable release was on July 6, 2022.
Since Tesseract-OCR is a very powerful, capable, and ever-evolving OCR engine, it offers high accuracy and is capable of handling various languages.
And Tesseract-OCR can be used in various ways. For example, it can be used to extract images from a PDF document or to extract text from images.
Tesseract OCR can be used in Python with Pytesseract and OpenCV to extract text from images. This is a particular form of this technology that can identify and extract text from an image. It is widely used in document scanning and search engines.
3 Phases Of Extracting Text From Images Using Tesseract-OCR
When you look at an OCR online tool, you won't be able to say, "oh, this one uses tesseract OCR technology." Simply because it's a background tech, and unless you have a keen eye for a developer, it's something not very visible.
In this section, we're going to talk about some of the key aspects of OCR online as a tool to extract text from images. So, let's dive right into it and understand the three most important aspects of extracting text from an image:
1.    Image Upload or URL Entry
Image upload or URL entry is the first step or phase of any OCR tool. This phase requires the user to provide the OCR tool with the image that they wish to convert into editable text. That's why any Tesseract-OCR tool will have this feature to extract text from an image.

Nowadays, there are many tools that offer different upload methods. This includes using image import from Google Drive or other cloud storage, using the image URL, uploading it from a PC/mobile phone, and dragging and dropping it in the OCR tool browser tab.
Therefore, uploading your image to the tool to use OCR online is the first step.
2.    Text Extraction
The next phase is text extraction. This is where most of the work happens, but it takes the least amount of time.
It depends on the tool, but it also depends on the amount of text on your image or file—since Tesseract-OCR can extract text from PDFs and other documents.
So, once your image is uploaded, it'll look like this: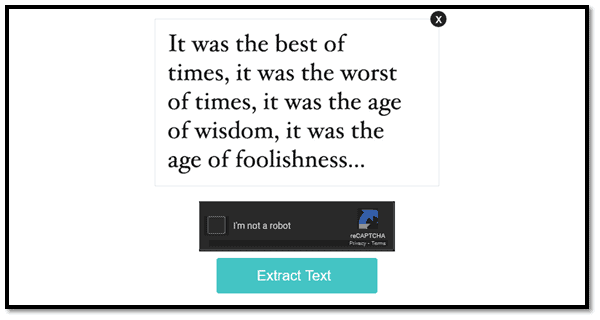 The next phase is to click on the "Extract text" button and allow it to do its job. It's important to understand that this also depends on the tool, but it won't take more than 20-30 seconds, regardless of the text amount in your image.
3.    Editable Text
The final phase is to use editable text. Many OCR tools (quality ones) allow you to edit and copy the text by turning it into an editor right after extracting text from your image. This is one of the key features of any OCR tool that uses Tesseract-OCR technology.
So, the final outcome of your text's extraction process will look like this:

Therefore, it's important that you use this editable text or simply use the Copy To Clipboard option and paste it wherever you like.
This particular example is a small line. However, larger image files would feature much more text than this.
Conclusion
These are the three main steps of using Tesseract-OCR to extract text from images. It's important to understand that each OCR online tool might have a different interface.
However, they all use the same methods to help you churn editable text out of any image that you wish for.