If you are looking for a tablet Stand set for work, entertainment or education purposes, you have come to the right place.Working on a tablet can be challenging and uncomfortable, making it harder to get stuff done and can lead to chronic discomfort.
This is where Rackora comes in. Its durable aluminium tablet stands are designed to be both affordable and easy to use, making writing, drawing, and watching your favourite shows easier than ever. They're also attractive and ergonomic, so you can use them easily and comfortably.
This article will discuss how Rackora is the best tablet stand for homework and provide a comprehensive overview of its features.
Benefits of Using Tablet Stand
Whether you use a tablet for homework, entertainment or education purposes, here are a few reasons you should use a tablet stand if you use the tablet on a daily basis.
Avoid Neck and Back Pain
Using a tablet and holding it for a longer period of time can be uncomfortable and lead to neck, back and arm pain. The tablet stand can be extremely beneficial in this case.
It raises the tablet to your eye level, which helps in reducing strain on your neck and arms and promotes good posture of your body; this way, you can use it for a longer time without harming your body.
Better Viewing Angle
A tablet stand allows you to adjust its height and fix it in an appropriate position depending on your use to have a better viewing angle. This is ideal if you use it while working, studying, lounging, or even looking at recipes and instructions.
Hands Free
A tablet stand can be very beneficial because it will free up your hands to do other things, like using a keyboard or mouse attached to the tablet. This can help increase your productivity because you can type or click faster without holding the tablet in your hands.
Prevents Scratches and Damages
A tablet stand provides a stable surface to place your tablet, reducing the likelihood of accidental drops. This helps to protect your tablet from scratches, dents, and other forms of damage.
Features of Rackora Tablet Stand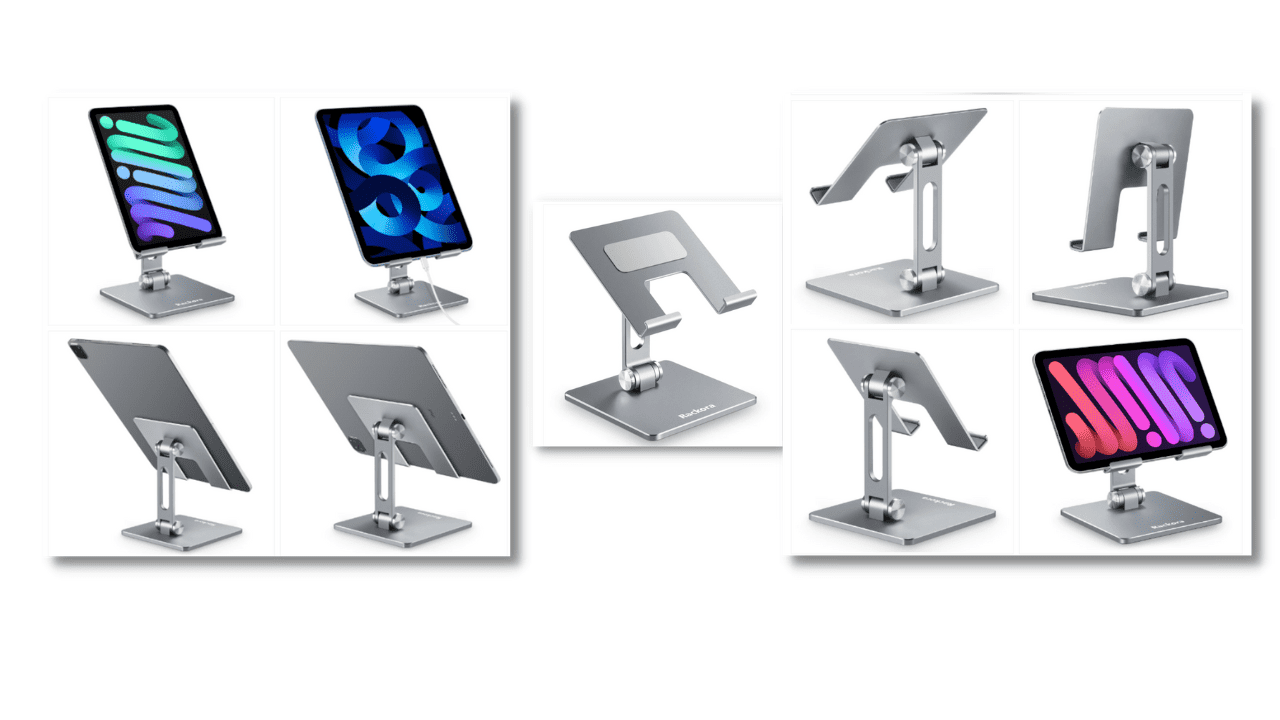 Durable Aluminum Alloy Tablet Stand
The Rackora Tablet Stand is made of durable aluminium alloy, so it's lightweight and flexible but also not susceptible to breaking easily. It's been formed and moulded to create a perfect fit for tablets and phones of various sizes.
Plus, your gadgets are extra protected and properly cushioned with the holder's soft silica rubber pads, ensuring they're firmly kept in place. The base's cushions are made with anti-skid silica gel pads, so you can place your tablet on any surface without slipping.
Chic and Sleek Design
Rackora's Tablet Stand is designed for your comfort and functionality. Whether you're working, studying, lounging, or even looking at recipes and instructions, this modern design will keep your neck from getting strained and your gadgets in the right position.
Table stand is adjustable in height and angle, so you can always find the perfect position for your needs. Its design looks smart and professional. It's also foldable, so you can take it anywhere you need to.
Compatibility
Rackora™ Tablet Stand is a one-size-fits-all gadget holder, unlike many. You can use it on Apple, Samsung, and all other leading gadget brands in the market. This fantastic product is perfect for phones, mini-tablets, and regular-sized tablets. It is designed to accommodate gadgets for all types of intended purposes.
Affordability
Although the design and features of the Rackora tablet may look quite expensive, it is actually affordable for anyone interested in purchasing it.
Conclusion
In conclusion, Rackora is an excellent choice for anyone who needs a tablet stand for work, entertainment or education purposes. With its lightweight and compact design, Rackora is a great option for those looking to enjoy their tablets without worrying about slipping off their hand or lap.