Customer live chat support is a great way to build customer loyalty. It's a great way to keep customers coming back and is a great way to get information that you can use to make your offers more personalized. A live chat software may seem like a trivial feature on a website, but it's one that can transform your business.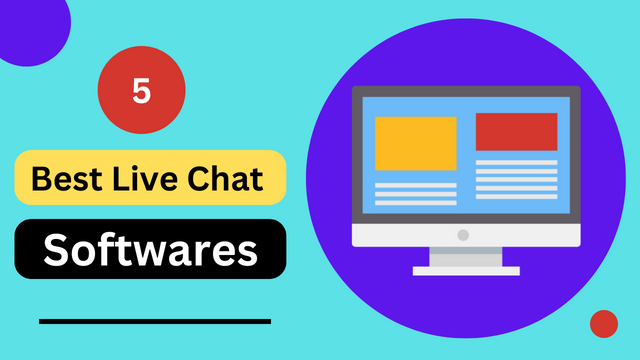 Live chat software is one of the most powerful tools for any business. It can help you to get new customers and make existing customers happy. Most businesses know this and have live chat software on their websites. But that is not enough. You need to make sure that you are using the best live chat software for your needs. There are many live chat software available today and it can be difficult to find the right one. I have compiled a list of 5 of the best live chat software out there to help you choose the right one.
5 Best Live Chat Software for Websites
#1 Olark
Olark is a top-rated live chat software that provides businesses with a simple and easy-to-use interface to engage with customers in real time. Its user-friendly system makes adding to your site quick and easy without any hassle. Additionally, it offers many customization options to change the chat box to match the theme of your website.
This software not only allows you to offer immediate support to your customers, but also provides you with detailed information about them so that you can make more informed business decisions.
It integrates with many popular software programs, including WordPress, Hubspot, Salesforce, and more. Additionally, it offers all the core features regardless of the plan size. Plus, it allows for a free trial.
In sum, Olark is packed with the features and integrations needed for commercial success and customer satisfaction.
#2 ChatBot
Next on the list is the ChatBot which is the future of live chat software as it offers 24/7 continuous engagement with your customers. Along with that, it uses the power of AI to boost customer engagement and satisfaction, a much-needed trade for small businesses.
It comes with an intuitive visual chat builder where you can quickly and efficiently set up your chatbot without requiring any coding. Aside from that, this software helps the team come together in one place to share their expertise from different fields creating the perfect customer interactions.
On top of that, you can integrate it with your favourite software tools like WordPress, Facebook Messenger, Zapier, Mailchimp and more to supercharge your workflows. Simply put, you can please a customer at each step of their buying journey with the ChatBot.
#3 Zifront
The next Live chat software in this list is Zifront which helps you to easily connect with your website visitors. Zifront gives you all the information you need to understand your website visitors and trigger chatbot automation to engage them. This way, you can generate new leads while keeping your visitors happy.
It helps close the gap between your website visitors and your customer service team and thus Keeps them connected.
It helps improve customer satisfaction and overall experience by framing a chatbot flow that delivers predefined responses to your customer's most frequently asked questions. This way, your customers will have their questions answered more quickly and effectively, resulting in a better experience with your company.
You can get started with Zifront for free with a 14-day trial, and no credit card is required to start the service.
#4 LiveAgent
LiveAgent is an all-in-one chat solution that provides the best in-time service to the customer with a wide array of features, including real-time chat, ticketing, time tracking and more.
This software lets you create unique chat buttons that you can easily place anywhere on your website. After that, you can use it to chat with the customer in real-time or create canned responses to answer their frequently asked questions.
It also has a helpful chat overview which gives you detailed information like where your customers are geographically located, what pages of the site they're visiting and how long they're spending on each page. Other features include a universal inbox, hybrid ticket stream, built-in CRM, tags and more.
LiveAgent also integrates seamlessly with more than 40 third-party applications to save you valuable time by less clicking and locking.
#5 Zendesk
With Zendesk, you can give your customers the best support possible. This live chat software is designed to deliver quick customer service and capture more leads. With it, you can initiate customer behaviour-driven chats, get ratings for the chat experience, analyze all conversations, and more.
It has a strong chatbot function to answer FAQs automatically and is also customizable to match your business and website's branding perfectly. Providing insights into your customers helps you understand them better and make more strategic decisions for your business.
Zendesk's integration capabilities are top-notch and integrate well with popular platforms like WordPress, Joomla, Squarespace and more. Zendesk can also deliver a detailed list of your site visitors with the items and pages they browsed. Lastly, Zendesk pricing is based on service and sales, which are perfect for fast-growing businesses.
Conclusion
Nowadays, it is very rare to find a company that does not offer any sort of customer service to its customers. However, there are still companies out there that still need to catch up to this trend. They are the ones that need to realize the importance of offering customer support and how it can benefit both the customers and the company as well. In this day and age, there are many different ways to connect with customers. Some of these ways include: phone, live chat, email, and social media.
However, It is essential to offer customers convenient ways to interact with a company and live chat software is one of the best ways.